What's New
(Version 5.0 N - with GPS logger feature)
Alpha Crucis is a totally dedicated Windows based programme for marking Precision Flying Competitions. It will run in Windows 3.1, 3.11, 95, 98, XP and NT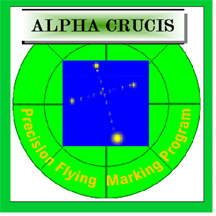 This programme is authorised for use at all levels of Precision Flying. It was used in parallel with the Swedish Marking programme at the 14 World Precision Flying Championships (14 WPFC) which were held in Sweden at the beginning of August 2000.
The files include on the Download Page are for a demonstration version of the programme. The demo version contains a fully operating version of the results from the 14 WPFC. If competitors are deleted then only four competitors can then be entered into the database. The results from the 14 WPFC can be recalled at any time.
If you have a registered version then enter your registration code when asked and the programme is fully functioning except for the new GPS feature. If this feature is used before it is registered then all but 4 competitors will be deleted from the database.
The files have now been updated to the new Version 5 with the GPS Logger file handling feature. The programme can open Garmin GPS data files, GeoTracker, IGC and the GAC format GNSS logger files. The times past a point can be calculated and a competitor's times are entered into the main database.
If you have a previous version earlier than 5, you must download the 4 installation files as the new version has some file and database differences from the earlier version.
There is a new Help file included with the Disk4.exe download. When Disk4.exe is unpacked to a floppy, the new help file will be loaded on the floppy disk. Copy this file manually to the PF5 folder and overwrite your present Help file.
---